2013-08-05 11:30:00
Interjú: Tenebras (Nuit Noire)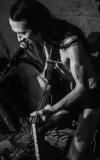 "Egyáltalán nem áll szándékomban felháborítani a metalosokat, de dalszerzés közben teljes mértékig tisztában vagyok azzal, hogy fel fogom háborítani őket."
2009-12-25 23:59:00
Interjú: Sami Hynninen (Reverend Bizarre, Spiritus Mortis, The Puritan, Opium Warlords)

"... a dolgok az irányításom alatt állnak. Ha pedig nem állnak, akkor abban az esetben a rendőröket kell kihívni."
2010-04-30 09:54:00, 1581
Reverend Bizarre - In the Rectory of the Bizarre Reverend

"Nem depresszív vagy önmarcangoló zene. Befordultnak mondható, de ez a befelé fordulás egy grandiózus, örömmel és extázissal telt elmélyedés."
2009-03-05 13:40:00, 1395
Blood Cult - We Who Walk Behind the Rows

Praising Satan, hunting deer; Watching Nascar, drinking beer